The bridges, named at the request of either the Pike County Fiscal Court or the Kentucky General Assembly, include the following:
Korean War Veterans Memorial Bridge
The interchange bridge off US 23 south which serves as the west end entrance to the new highway.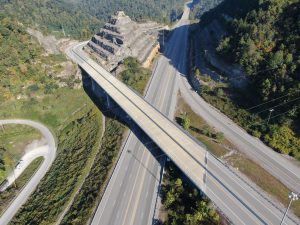 Jasper and Anna Justice Bridge
The Justices lived near the eastbound span of this twin bridge, where they owned and operated a community grocery store.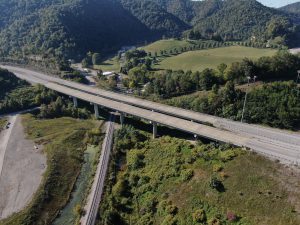 Noah Branham, Sr. Memorial Bridge
The westbound bridge at Sookey's Creek is named after the local resident whose family homestead was near the bridge.
Oliver J. Prater Bridge
The eastbound span of this bridge is designated for Oliver Prater, who was a World War II U.S. Army veteran who survived the attack on Pearl Harbor. He was later captured by the Japanese and survived the infamous Bataan Death March in the Philippines, where he was held as a prisoner of war for 42 months.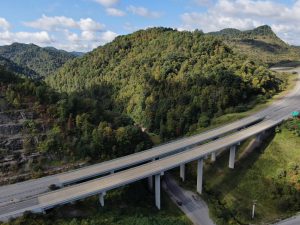 James and Pearlie Prater Bridge
The westbound bridge at Greasy Creek is built over what was the Prater Farm, where the Praters lived for 54 years. They ran Prater Grocery Store as well as a blacksmith shop and leather shop. Mr. Prater worked as a coal miner for 45 years, retiring from Republic Steel in 1961.
Miles Justice Bridge
Miles Justice lived at Shop Branch, Gardner Fork, where he and his wife, along with eight daughters and four sons, settled in the Greasy Creek and Shelby areas of Pike County. Justice was an entrepreneur in his community, owning a restaurant, grocery store, and several coal mines. This bridge crosses Greasy Creek at Shop Branch. The eastbound span is named for Mr. Justice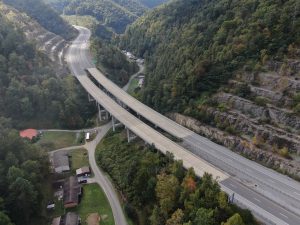 Epling Family Bridge
In honor of John Paul Epling, his late wife, Veronica Johnson Epling, their late son, Ryan Epling, and their son Chris Epling, local artist, author, and U.S. Army veteran.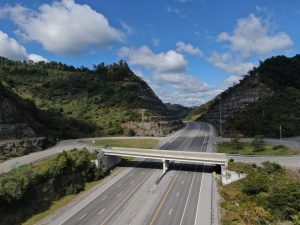 Silas William Ratliff Bridge
Silas Ratliff was a farmer and businessman born on the family homestead, part of which is located on property directly beneath the bridge and ramp on the Wolfpit-Laurel Branch section.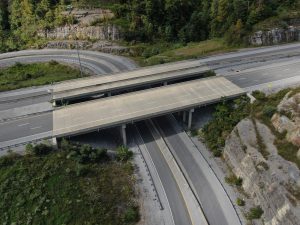 Andy and Mary Carter Bridge
This is the eastbound bridge at Marrowbone. The bridge spans the property that the Carters purchased in 1945 from Eldon Mullins. They lived the remainder of their lives at this location.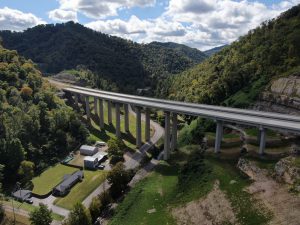 Eldon and Jollene Mullins Bridge
The westbound span of this twin-span structure is considered part of the Marrowbone section of the new highway. It spans the property on which the Mullins family lived for 53 years, until her death in 2004 and his in 2005. Eldon Mullins was a World War II veteran, a lifelong coal miner, member of the Marrowbone Volunteer Fire Department, Disabled American Veterans, and the United Mine Workers. They were both accomplished bluegrass musicians and vocalists.